Stree Shakti | Empowering Through Starts-up India and MSMEs By FCS Jaya Sharma
---
||Yatra naryastu pujyante ramante tatra devta, Yatrai taastu na pujyante sarvaastatra falah kriyaah||
(Where women are honoured, divinity blossoms there;
and where they are dishonoured, all actions remain unfruitful)


INTRODUCTION AND CONCEPT OF WOMEN EMPOWERMENT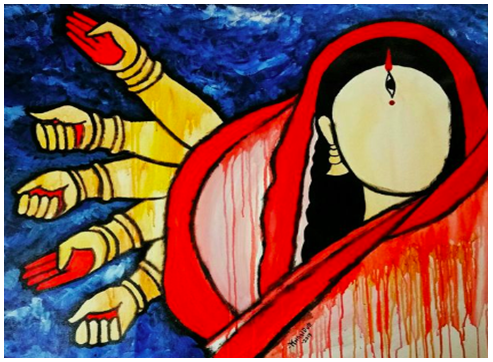 Source: mybetterstartsnow.blogspot.com
Oxford Dictionaries announced 'Nari Shakti' as its Hindi Word of the Year in 2018. Derived from Sanskrit, 'Nari' means 'Women' and 'Shakti' means 'Power', the term is used to symbolise women taking charge of their own lives. It is symbolic of the courage that women have derived and the feeling which is more substantial.
Indian women are considered "Shakti" in our Indian Mythology, Shakti, enabling them to overcome the obstacles in their lives, be it personal or professional. The concept of 'Women Empowerment' is the process that creates power in women. Women will be empowered if they have access to opportunities with no limitations, which would further their development.
Empowerment is to be acquired and not to be given by anyone; it comes from self-respect. It would be correct to say that women empowered leads to women development, furthering a nation's growth.
"There is no tool for development more effective than the empowerment of women"
-Kofi Annan
WOMEN ENTREPRENEURS
"Women are leaders everywhere you look—from the CEO who runs a Fortune 500 company to the housewife who raises her children and heads her household. Strong women built our country, and we will continue to break down walls and defy stereotypes" - Nancy Pelosi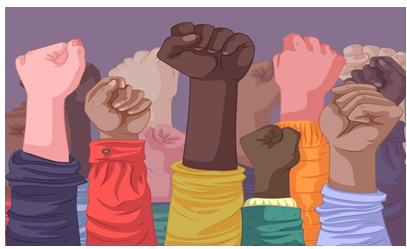 The increase in women's presence as entrepreneurs has led to a tremendous change in the demographic growth of the nation's business and economic development. Women-owned enterprises play a vital role in the country by being an inspiration for others and generating employment opportunities.
Based on the statistics:
Women represent only 13.76% of the total entrepreneurs, i.e., 8.05 million (Eighty Lacs Fifty thousand) out of the 58.5 million (Five crores Eighty-Five lacs) entrepreneurs;
Establishments in total, owned by females, employ 13.45 million (One crore thirty-four lac fifty thousand) people;
Currently, women entrepreneurs maybe less, but overall, women comprise about 30% of the corporate senior management positions, which is notably higher than the global average of 24%;
The overall median proportion of the female executives in successful companies is 7.1% as compared to 3.1% at unsuccessful companies;
Start-up India facilitates bank loans between INR 10 lacs to INR 1 crore to SC/ ST or women;
Trade-Related Entrepreneurship Assistance and Development (TREAD) provides women with trade-related training, information and counselling & grant of up to 30% of the total project cost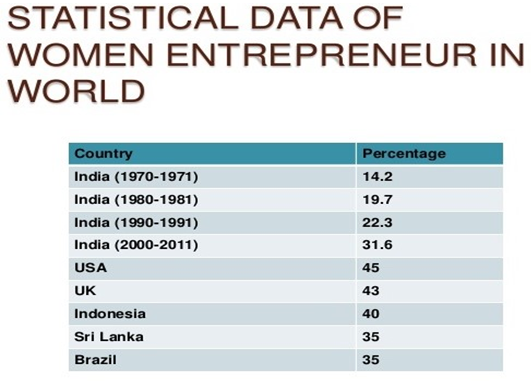 Source: www.slideshare.net | 2013
STARTUP INDIA AND WOMEN ENTREPRENEURS
"After all, our dream of 'New India' is the one where women are strong and empowered and are equal partners in the development of the country"
Prime Minister, Shri Narendra Modi
The flagship initiative, "Start-up India" was initiated by the prime minister in 2016 "to build a strong ecosystem conducive to the growth of start-up businesses, drive sustainable economic growth, and generate large scale employment opportunities".
Under the Start-up India initiative, eligible companies can get recognised as Start-ups by DPIIT to access a host of tax benefits, easier compliance, IPR fast-tracking & more.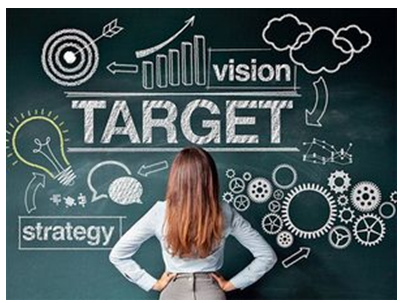 Source: the economic times
Benefits of registration under Start-up India Scheme:
Self-Certification: A Company is required to abide by the various labour law compliances. The chances of non-compliances arise, especially when a Start-up is new, hence to reduce regulatory liabilities, start-ups are allowed to self-certify compliance with nine labour and environmental laws. In such a case, no inspection would be conducted for a period of three years;
Tax Exemption: The Start-ups registered under the Start-up India scheme are tax exempted. This exemption is provided for a period of the initial three years. Any investment made by the incubators of higher value than the market price is exempted. Further, investments made by angel investors are also exempted. A tax holiday for the first three years or reaching a specific threshold limit would mean that the Start-up can completely utilise the revenues for business development objectives only;
Patent Protection: Fast-track examination of patent applications and a rebate of 80% of the total value of the patent fee is also granted once the patent is filed;
Relaxed Norms for Public Procurement: Previously, to go for public procurement, a company was required to have prior experience' or a 'requisite turnover'. Startup India has paved the way for equal opportunities for both start-ups and experienced entrepreneurs. Public procurement norms have been relaxed for start-ups, thereby making it easy for them to go for public procurement;
An Incubator Setup: The Incubator module endorses the public-private partnership. The module gives the Start-up the requisite knowledge and support that the start-ups require. Almost 118 incubators are powering the Start-up ecosystem across India, helping the Start-up ecosystem;
Networking Options: Start-ups get opportunities to meet other Start-up stakeholders at a particular place and time. These meetings are conducted as fests. These fests are conducted twice, annually on both national and international levels, which provides start-ups with an excellent opportunity to seek funding, grow and develop by looking at other start-ups and a broader perspective with their day to day activities;
Government Tenders: Government projects usually have high monetary incentives, and the level of competition is high. However, start-ups are given incentives to receive government tenders.
Research and Innovation Benefits: Start-up India encourages research and innovation. The government aims to set up research parks to ensure that the facilities are provided to students and start-ups to research and develop their products/services.
For the sustainable growth of women entrepreneurship, to promote balanced growth in the country, Start-up India has committed a step ahead to strengthen the women entrepreneurship ecosystem through policies, initiatives, and network creation at both the Central and State Level.
For instance:
Maharashtra's government would provide preference to early-stage Start-ups (up to 3 years from the date of incorporation) and FinTech Start-ups with Women Founders who wish to avail the incentives. It will earmark a certain proportion of the total fund for the benefit of such Start-ups:
Incentive Fund for Top-rated Start-ups;

Creation of Investment Fund;

Reimbursement of internet and electricity charges;

Reimbursement of expenditure towards hosting infrastructure;

Reimbursement of State GST;

Reimbursement of exhibition/global event participation fee;

Incubation Space for accelerators and Start-ups;

FinTech Corpus Fund.
Nagaland's government would provide:
Special efforts will be made to identify the women entrepreneurs in rural and urban Nagaland;

Special efforts will be made to create awareness among women entrepreneurs on the various State and Centrally sponsored schemes;

25% of the funds will be dedicated to promoting Start-ups by women entrepreneurs in the state.


WORKSHOPS AND TRAINING PROGRAMMES CONDUCTED FOR WOMEN ENTREPRENEURS
Start-up India has emphasised boosting women entrepreneurship through workshops, training programmes and the creation of enabling networks. Some of them highlighted below:
Workshop for Women Entrepreneurs (WING): An initiative by Start-up India and led by DPIIT, WING is a unique capacity development program that aims to support 7500 women entrepreneurs in the country per year;
Support to Training and Employment Programme for Women (STEP) Scheme: Aims to provide employability skills to women and provide competencies and skill that enable women to become self-employed/entrepreneurs. The scheme intends to benefit women who are in the age group of 16 years and above across the country;
Women Entrepreneurship Platform (WEP): Provides an ecosystem for budding and existing women entrepreneurs across the country by providing different support services like Incubation, Training, Marketing, mentorship etc. WEP is built on three pillars, Iccha Shakti (motivating aspiring entrepreneurs to start their business), Gyaan Shakti (providing knowledge and ecosystem support to women entrepreneurs to help them foster entrepreneurship) and Karma Shakti (providing hands-on support to entrepreneurs in setting-up and scaling up businesses).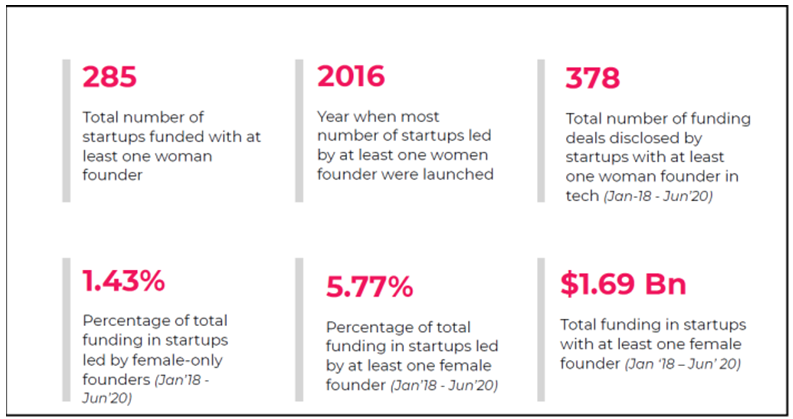 Source: Start-up India | 2020
MICRO, SMALL AND MEDIUM ENTERPRISES (MSMES) AND WOMEN ENTREPRENEURS
MSMEs (revised wef July 01, 2020), comprises of the following categories: —
a micro-enterprise, where the investment in Plant and Machinery or Equipment does not exceed one crore rupees and turnover does not exceed five crore rupees;

a small enterprise, where the investment in Plant and Machinery or Equipment does not exceed ten crore rupees and turnover does not exceed fifty crore rupees;

a medium enterprise, where the investment in Plant and Machinery or Equipment does not exceed fifty crore rupees and turnover does not exceed two hundred and fifty crore rupees.
BENEFITS OF MSME REGISTRATION:
Loans without collaterals: The Government has introduced various MSME/SSI initiatives that allow them to avail credit without collateral. The initiative to provide collateral-free loan is undertaken by GOI (Government of India), SIDBI (Small Industries Development Bank of India) and the Ministry of Micro, Small and Medium Enterprise under the name The Credit Guarantee Trust Fund Scheme;
Subsidy on Patent Registration & Industrial Promotion: Business enterprises registered under the MSME Act are given a grant of 50% for patent registration;
Overdraft facility along with interest rate exemption: Businesses or enterprises registered as MSME/SSI under the MSME Act are eligible to avail a benefit of 1% on the overdraft as part of the Credit Guarantee Trust Fund Scheme;
Concession on electricity: MSME registration businesses can avail a concession on electricity bills;
Protection against delayed payments: Under the MSME registration benefits, the buyer is to make a payment for the goods/services within 15 days of the purchase. If the buyer delays the payment for more than 45 days, the enterprise is eligible to charge compound interest, which is three times the rate notified by RBI;
ISO certification charges reimbursement: A registered small or medium enterprise can claim the expenses for reimbursement that were spent on ISO certification;
Industrial promotion subsidy eligibility: Enterprises that are registered under MSME can receive a subsidy for Industrial Promotion.

Source: medium.com | 2020
OPPORTUNITIES AS WOMEN ENTREPRENEURS
Harbingers of change for employment creation: Start-ups and MSMEs are the critical mediums to long-term employment creation. With equal opportunities and inputs, women-owned ventures and enterprises produce equally strong economic outcomes compared to the ventures led by men. If one woman takes the lead, other women would be influenced and would follow her as a role model and leader;
Gender-based innovation: Women entrepreneurs are exploring the new un-explored and un-tapped markets. For instance, eco-friendly sanitary products and personal care, innovative kitchen products, beauty products, networking platforms for women who took a break in their career and now want to revive their career and many more which were earlier not addressed or neglected;
Enhanced personal results with greater longevity in the workforce: Women entrepreneurs experience greater financial independence as they believe that working for themselves reduces their dependency on their spouse. Many women entrepreneurs also view it as a method to break through the glass ceiling;
Transforming Homemaker to Entrepreneur: A homemaker turning into an entrepreneur doesn't only change her life but inspires many women around her who take a leaf of inspiration from her entrepreneurial skills and enterprise.
"There isn't a glass ceiling, just a thick layer of men" - Laura Liswood, Author
CHALLENGES AND ISSUES AS WOMEN ENTREPRENEURS
"The cracks might be bigger, but the ceiling is still not shattered"- Kunyalala Maphisa,
President Businesswomen's Association 2011 South Africa
Every entrepreneur faces hindrances and barriers when starting their venture /enterprises. For women entrepreneur, there are some additional barriers:
Personal and social challenges are a big hurdle for most women: Social permission to work due to cultural practices, social beliefs, safety concerns, work-life balance is challenging. This further aggravates the women's attitudes towards outside work, including low confidence and fear of failure, thus impeding the potential entrepreneur;
Cultural conundrum: Women are often dispirited to seek financial independence outside of the home, whether for social conditioning, culture, safety or status. The concept of equal rights to property or assets is often ignored whereby women accede to fathers, brothers, husbands or sons, both in asset ownership and financial decision making;
Women are assumed as primary caregivers and household operators, which means any professional work outside is secondary. Further, very often, the unpaid roles as caregivers, household managers, reduced mobility is another impediment to women's entrepreneurship;
Limited access to business and technical skills: Regardless of an increasingly educated population, limited access to relevant business and technical skills acts as a significant barrier in tapping the necessary resources;
Less integration with formal and informal networks: constrains the ability to access business opportunities, mentors and knowledge;
Limited access to funds: Limited financial support from friends and family, little savings and assets, Limited funding from banks or private investors makes it hard to start;
Source: Shethepeople
While every child since their childhood is given the same education and the same opportunities since the very beginning, these choices narrow down as the women approach their professional goals, resulting in opting out of the exact career they dreamed of or altering their career goals to match with the reality.
"If you exclude 50% of the talent pool, its no wonder you find yourself in a war for talent" -Theresa J. Whitmarsh (Executive Director Washington State investment Board)
INSPIRATIONS OF WOMEN LED START-UPS AND MSMES THAT MADE IT BIG
Mann Deshi Foundation's successful finance and skills development project for rural women entrepreneurs has resulted in INR 500 crore in aggregate financing for 90,000 women, the establishment of more than 50,000 micro-businesses and 4 lakh women have participated in their business school and chambers of commerce programmes;
Launched in 2016 by TiE Global with funding support from the US State Department, the All-India Road Show for Women's Economic Empowerment through Entrepreneurship (AIRSWEEE) facilitates women entrepreneurship in tier-2 and tier-3 cities in India. Five hundred seventy-five women entrepreneurs have directly enrolled in a coaching and mentorship programme across 106 cities in 20 states in India. AIRSWEEE has established a pay-it-forward culture through which these mentees have further mentored an additional 2,500 plus women;
SHEROES is building the Women's Internet to bring in trust, empathy, growth via content, connections and commerce. The Network is home to the SHEROES app, Maya, BabyGogo and SHEROES Workforce. The platform has 16 million members;
CAXpert provides simple, convenient, and economical accounting solutions to small and medium enterprises. The start-up helps record sales, expenses, orders processing, and time utilisation, and then recommends ways to optimise operations;
ECONOLYTICS is a one-stop-shop for all data-related needs, and the start-up is a curated marketplace of data scientists and engineers who can be hired by companies, on-demand and for a flexible duration;
AAROH helps SMEs define their marketing strategy and communication, regardless of whether they're looking to grow in India or expand internationally;
BARE NECESSITIES helps and encourages an earth-friendly lifestyle and products. They aim to be one of the change-makers in the narrative on waste in India.
CONCLUSION
"There is no chance for the welfare of the world unless women's condition is improved; a bird can't fly on only one wing. Women grows, Nation Grows"- Swami Vivekananda
Our country is full of confident, highly educated and credentialed women who want to fundamentally alter the talent landscape and contribute to the nation and make their work seen globally. Simultaneously, they are confronted with deeply deep-seated social and organisational barriers that can derail their careers and deprive the companies of the essential talent and the necessary fuel to sustain the growth.
Integrated policy framework for accelerating entrepreneurship amongst women, an emphatic inclusion of semi-urban and rural India, equal access to finance through broad-based gender responsiveness across the financing sector, increased and creative access to capability development and mentorship, tighter integration into formal and informal networks, creation and celebration of role models, gender sensitisation etc. are few of the improvised process which will help the women entrepreneur grow and explore the untapped potential. Government, Organisations and Associations need to work hand in hand to provide women with opportunities to leapfrog these barriers.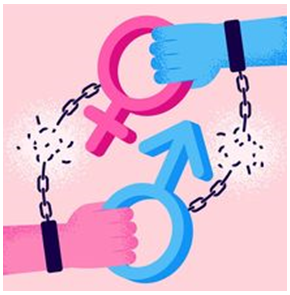 Women are always saying, 'We can do anything that men can do.' But men should be saying, 'We can do anything that women can do'-Gloria Steinem
Nari Shakti is a movement involving both men and women and a reminder that we need to keep fighting for what's right.
References:
https://www.startupindia.gov.in/
https://www.startupindia.gov.in/content/sih/en/women_entrepreneurship.html
Women Entrepreneurship in India Google -Bain & co.
ORF- The Indian Startup Ecosystem: Drivers, Challenges and Pillars of Support
Click here

to read the disclaimer
---
Write a Comment