New LLP Incorporation Procedure By Divya Saluja
---
(All Provision in Relation to LLP Incorporation Changed with Amendment Rules 2018)
New Process of Incorporation:
Name Reservation -
Step 1: Login MCA Website.
Step 2: After Login Click on "RUN-LLP"


Note:

DSC/DIN/DPIN is not required for filling of RUN.
Fees: Fees for Filling of Name through RUN is Rs 200/-
Validity Period of Approval of Name: Name is valid for a period of 3 months from the date of issue of the Name Approval letter.
Number of Names can be Proposed at the time: Two Names Can be proposed in case of Initial Filling of RUN Form and also in case of Resubmission.

After Name Approval Applicant has to Prepare following Documents
· Affidavit for not Accepting Deposit
· Form 9 ( Consent to Act as a Designated Partner)
· Subscriber Sheet
· NOC from Owner of Premises
· Proof of Office Address ( Conveyance/ Lease Deed / Rent Agreement )
· Copy of Utility Bill ( Not Older than 2 Months)
· ID and Address Proof Subscribers

Forms Required To be Filled:
| | |
| --- | --- |
| New Form ( Inserted vide Amendment ) | Old Forms ( Replaced vide Amendment) |
| RUN-LLP | Form -1 |
| Form FiLLiP | Form -2 |

Note: Form FiLLiP is an incorporation Form by which DPIN can also be applied to Maximum 2 Individuals.
Features of FiLLiP Form:
Person Can apply the Name also in this Form.
New Field is Introduced to enable the user to enter the Number of Designated Partners/ Partners in Tabular Format as follows: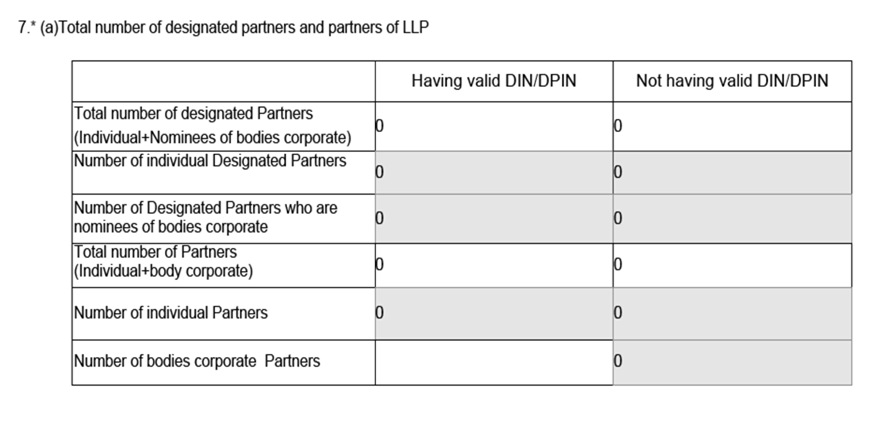 After Completion of Above Step user shall Submit the Form with MCA website.
After Approval of Form FiLLiP file, the LLP Agreement duly Stamped within 30 days of Approval in Form-3.
Click here

to read the disclaimer
---