NCLAT has passed an order giving much needed clarification arising on account of COVID-19
---
NCLAT has passed an order giving much needed clarification arising on account of COVID-19. The CIRP is a time bound process. Sec.12 provides time line for completion of CIRP. A proviso to Sec.12 added on 16.08.2020 prescribes that CIRP be mandatory completed within 330 days, including time taken in litigation.

The COVID-19 like circumstances was not anticipated by the legislators. It's a special circumstance, which warrants special treatment and a liberal approach.

The NCLAT vide Order dated 30.03.2020 has clarified that the period of lockdown shall be excluded from counting of period of CIRP as prescribed under sec.12. I believe, this order has provided much needed relief to IRPs & RPs sitting at home.

The IBBI on 29.03.2020 amended CIRP Regulation and introduced Reg.40C clarifying that the lockdown period shall not be counted for calculating the fixed time line.

The clarifications by the IBBI and NCLAT are welcome and proactive move. It reflects the liberal approach of the decision making authority.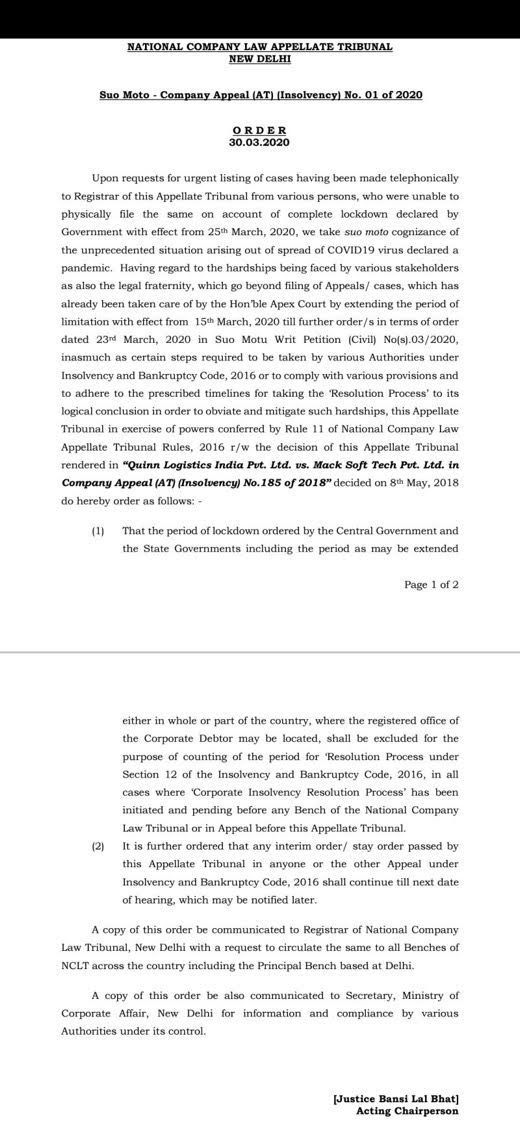 ---
Write a Comment