Mandatory Filling of DIR-3 KYC on or Before 31st August 2018 By FCA Prathmesh A Shete
---
Dear Readers,

Ministry of Corporate Affairs (MCA) has made an announcement on 28th June 2018 for KYC of the director, for ensuring the genuineness of individuals occupying the post of directors. The announcement is as follows:-
Who has to File DIR-3 KYC?
Directors of all companies who have got DIN on or before 31st March 2018 and whose DIN status is approved are required to file e-Form DIR-3 KYC.
What is the Due Date of DIR-3 KYC filing?
The due date for filing of e-form DIR-3 KYC is 31st August, 2018
Mandatory Information Required for DIR-3 KYC
Unique Personal Mobile Number (Registered with Aadhar)

Personal E-mail ID

OTP on Mobile and E-mail ID need to get verified.
Certification Required to File DIR-3 KYC
DSC of Director

Certification By Practicing Professional like CA/CS/CMA
Are Disqualified Directors also required to file DIR-3 KYC Form?
Yes, it is mandatory to file DIR-3 KYC by Disqualified Directors too.

The result of Directors Who Fails to File DIR-3 KYC Form. The MCA system will mark the approved DINs as Deactivated due to 'Non-filing of DIR-3 KYC'.
Consequences of Filing DIR-3 KYC After Due Date
The deactivated DINs shall be allowed upon a payment of 5000/- fees only.
MCA Update on the same: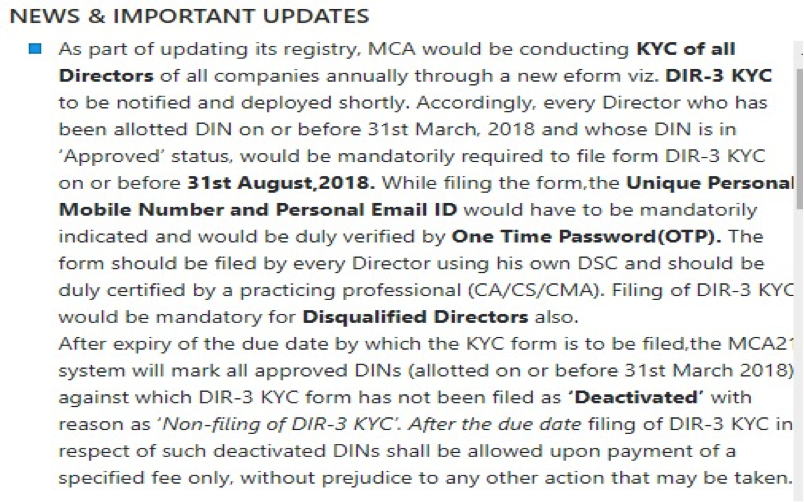 Click here

to read the disclaimer
---
Write a Comment