Limited Liability Partnership (LLP) - A Corporate Form of Partnership By CS Anand Jain
---
I. Concept of LLP:
Governing Legislation: Limited Liability Partnership Act, 2008
The Limited Liability Partnership is an alternative corporate model that provides the benefits of limited liability of a company but allows its members the flexibility of organizing their internal management on the basis of a mutually arrived agreement, as is the case in a partnership firm. This corporate model is quite suitable & useful for small and medium enterprises in general and for the enterprises in services sector in particular like firms of Advocates & Solicitors (Law Firms), Firms of Architects & Engineers, Firms of CA/CS/CMA's, firms of professionals & Consultants, Software/IT Solutions, E-Commerce and other services. Internationally, LLPs are the preferred vehicle of business particularly for service industry or for activities involving professionals. An LLP is similar in some ways to a standard Partnership.
It exhibits elements of both partnership and corporation. In LLP, one partner is not responsible or liable for another partner's misconduct or negligence unlike a traditional partnership in which each partner has joint and several liabilities. There are many advantages of Limited Liability Partnership like;
II. Characteristics & Advantages: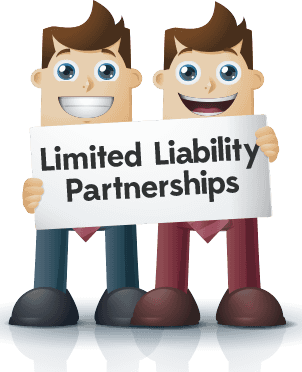 Renowned form of business: Though the concept of Limited Liability Partnership has been recently introduced in India but it is very known concept in other countries of the world especially in service sector.
Easy to Form: It is very easy to form LLP, as the process is very simple as compared to Companies and does not involve much formality. Moreover, in terms of cost the minimum fees of incorporation.
Body Corporate: Just like a Company, LLP is also body corporate, which means it has its own existence as compared to partnership. LLP and its Partners are distinct entity in the eyes of law. LLP will know by its own name and not the name of its partners.
Liability: A LLP exists as a separate legal entity from your personal life. Both LLP and person, who own it, are separate entities and both functions separately. Liability for repayment of debts and lawsuits incurred by the LLP lies on it and not the owner.
Perpetual Succession: An incorporated LLP has perpetual succession. Notwithstanding any changes in the partners of the LLP, the LLP will be a same entity with the same privileges, immunities, estates and possessions. The LLP shall continue to exist till its wound up in accordance with the provisions of the relevant law.
Flexible to Manage: LLP Act 2008 gives LLP the at most freedom to manage its own affairs. Partner can decide the way they want to run and manage the LLP, in form of LLP Agreement. The LLP Act does not regulate the LLP to large extent rather than allows partners the liberty to manage it as per their will and fancies.
Separate Property: A LLP as legal entity is capable of owning its funds and other properties. The property of LLP is not the property of its partners. Therefore partners cannot make any claim on the property in case of any dispute among themselves.
Taxation: Another main benefit of incorporation is the taxation of a LLP. LLP are taxed at a lower rate as compared to Company. Moreover, LLP are also not subject to Dividend Distribution Tax as compared to company, so there will not be any tax while you distribute profit to your partners.
Raising Money: Financing a small business like sole proprietorship or partnership can be difficult at times. A LLP being a regulated entity like company can attract finance from PE Investors, financial institutions etc.
Capacity to sue: As a juristic legal person, a LLP can sue in its name and be sued by others. The partners are not liable to be sued for dues against the LLP.
No Mandatory Audit Requirement: Under LLP, only in case of business, where the annual turnover/contribution exceeds Rs. 40 Lacs/Rs. 25 Lacs are required to get their account audited annually by a chartered accountant. This provides great relief to small businessmen.
Partners are not agent of other Partners: In LLP, Partners unlike partnership are not agents of the partners and therefore they are not liable for the individual act of other partners in LLP, which protects the interest of individual partners.
Compliances: As compared to a private company, the numbers of compliances are on lesser side in case of LLP.

III. Requirements for LLP:
Designated partners : Minimum Two
Capital Contribution: No specific Amount
Any lawful business objectives

IV. Steps involved in LLP Incorporation:
Obtaining Digital Signature (DSC) of designated partners.
Obtaining Designated Partner Identification Numbers (DPIN).
Application for the Name of the LLP with the Registrar of Companies.
Drafting of Main Business objectives for the LLP & review/confirmation from client.
Approval & issuance of Certificate of Incorporation of the LLP.
Filing (submission) of LLP Incorporation with Registrar of Companies.
Signing of Legal documents from clients and verification of the same.
Preparation of Consent Letters, Subscribers Sheets, LLP Agreement & other documents.
V. Annual Work for LLP:
Limited liability partnerships (LLPs) have very little compliances to fulfill, in comparison to private limited companies. LLP's need only file information related to statement of accounts and annual returns on an annual basis. Penalties, however, are huge for failure to comply. Entities that don't end up doing so could be fined heavily, with penalties.
There are three mandatory compliance requirements to be followed by LLP's.
Filing of Annual Return
Filing of Statement of the Accounts or Financial Statements
Filing of Income Tax Returns
Filing Annual Return:
Annual Return or Form 11 is a summary of an LLP's Partners. It is also an indication of whether there is any change in the management. Every LLP is required to file Annual Return in Form 11 to the Registrar within 60 days from the closure of a financial year. That is, the Annual Return has to be filed on or before 30th May every year.
It should be noted that LLPs whose annual turnover exceeds Rs. 40 lakh or whose contribution exceeds Rs. 25 lakh are required to get their accounts audited by a qualified Chartered Accountant mandatorily.
*An Audit of accounts is mandatory under the Income Tax Act when the annual turnover of LLP is more than One Crore Rupees.
RoC Returns to be filed

Last date for filing

Annual Return (Form 11)

30-05-2017

Statement of Accounts & Insolvency
(Form 8)

30-10-2017

Income Tax Return

Last date for filing

In case Audit is not required

31-07-2017

In Case Audit is required

30-09-2017

Author
CS Anand Jain
complyINtime Consulting
Cell: + (91) 77 21 090-960
Email: complyintime@outlook.com

Click here

to read the disclaimer
---
Write a Comment