How to pay GST for the month of July ? By CS Ekta Maheshwari
---
In the latest press release, dated 19th August, 2017, the last date for paying GST for the month of July, 2017 is 25th August, 2017.

Following are the steps for filing the same:
After login, we have two options, either we can click directly 'create challan' or under services>payments>create challan:
OR

Fill in the required details i.e. Tax, Interest, Penalty etc. and save the same: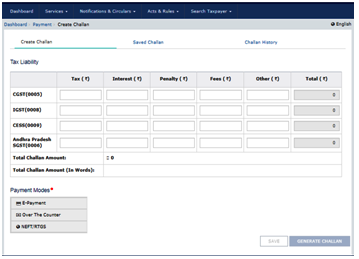 Now after filling the above mentioned details, you can generate challan, but before that choose the mode of payments and for that we have three options:
a) E- payment- Internet banking and debit/credit cards of authorized bank, or
b) OTC- Over the counter payment through authorized bank (for payment of tax liability below Rs. 10,000), or
c) NEFT/RTGS- Payment through NEFT/RTGS from any bank
If you want to pay through e- payment, simply click on 'e-payment' and create challan:


If you want to pay through OTC, click on 'over the counter', now once you click on OTC, name of the authorized banks will appear, choose any one from these banks and also select as to whether you want to pay the same via cash, cheque or Demand Draft and then create challan:


If you want to pay through NEFT/RTGS, click on the same and fill in the Remitting Bank and create challan:


Now once you have filled in the required details, save the same and generate challan. Pay the GST within 15 days (as challan will be valid for 15 days).
References:
http://www.cbec.gov.in/resources//htdocs-cbec/press-release/CBEC-Press-Release-dt-19-08-2017.pdf
Hope this information will help you in your Professional endeavors. For further assistance/query, feel free to write to us.
Author:
C S Ekta Maheshwari
The Author can be reached at csektamaheshwari14@gmail.com
Author Disclaimer:

The entire contents of this article is solely for information purpose and have been prepared on the basis of relevant provisions and as per the information existing at the time of the preparation.. It doesn't constitute professional advice or a formal recommendation. The author has undertaken utmost care to disseminate the true and correct view and doesn't accept liability for any errors or omissions. You are kindly requested to verify & confirm the updates from the genuine sources before acting on any of the information's provided herein above.
Click here

to read the disclaimer
---
Write a Comment