DIR-3 KYC: General FAQs and Insight By CS Rajesh Lachhwani
---
The Common aspects like due date of the Filling of Form, Penalty, what is a personal mobile number and email id etc are not covered.

The Article is in the form of FAQs with the relevant explanation.

1. Do all Directors have to file DIR-3 KYC?
ANS: The answer is NO. The Directors whose DIN status is not approved would not be allowed to file the same
2. I am a disqualified director, am I required to file form DIR-3 KYC?
ANS: Yes. Any person who has been allotted DIN and where the status of such DIN is 'Approved', is required to file form DIR-3 KYC. Hence, disqualified directors are also required to file form DIR-3 KYC.
3. My DIN status is 'Deactivated'. Can I file form DIR-3 KYC?
ANS: Form DIR-3 KYC can be filed for status 'Deactivated' on payment of a fee of Rs. 5000 only if the DIN was deactivated due to non-filing of form DIR-3 KYC
Elaboration for FAQs No. 1,2, and 3

For the Financial year, 2018-19: Any person who has been allotted "Director Identification Number (DIN/DPIN)" on or before 31st March 2018 and the status of such DIN is 'Approved', needs to file form DIR-3 KYC to update KYC details in the system on or before 31st August 2018.

[DATE EXTENDED TILL SEPTEMBER 15, 2018]

For the Financial year 2019-20 onwards: Every Director who has been allotted DIN on or before the end of the financial year, and whose DIN status is 'Approved', would be mandatorily required to file form DIR-3 KYC before 30th April of the immediately next financial year.

After expiry of the respective due dates, the system will mark all non-compliant DINs against which DIR-3 KYC form has not been filed as 'Deactivated'.

ANALYSIS OF STATUS APPROVED
The Ministry of the Corporate affairs department had issued two lists of disqualified directors.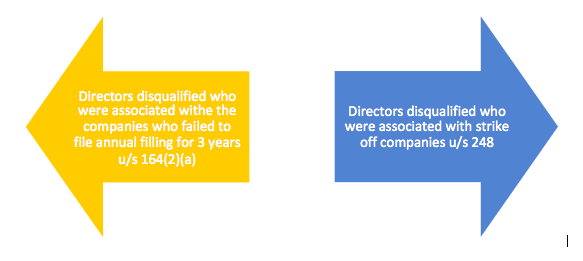 The Directors who were disqualified due to annual filling default were made active by MCA hence all the DIN's in the DIN status would show the status of Approved except for the DIN's associated with Strike off companies which were not activated by ROC as NCLT instructions are required for the same.


The link of such DISQUALIFIED directors whose status is made active is as follows:


The directors who were disqualified under the preview of Strike off companies and who has made application to NCLT, on the instruction of NCLT to ROC were made active.
Go to MCA services, enter DIN in enquire DIN status
Step 1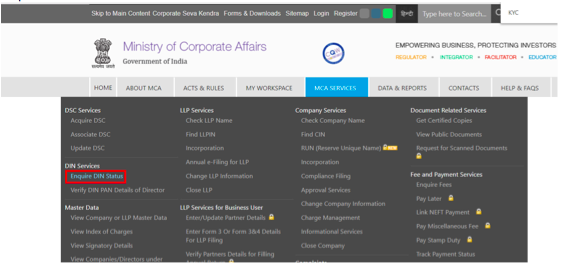 Step 2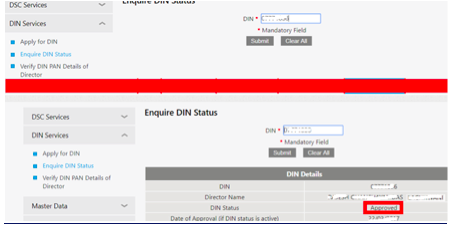 Other Directors who have not made any application to NCLT are still showing disqualified. Such directors won't be able to file such form Directors which are associated in both list ie disqualified due to annual filling default and strike off companies will also have the DIN status of Disqualified and not APPROVED
Such a list can be accessed at
http://www.mca.gov.in/MinistryV2/directorsstruck248.html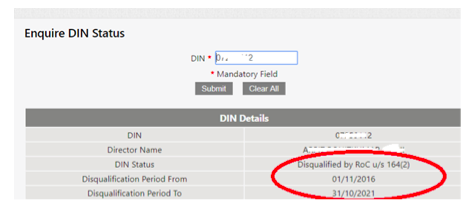 In the above case, the DIN status is not approved, this means such directors cannot file DIR 3 KYC
4. Whether details entered in the form DIR-3 KYC will update DIN Holders' database?
(DIR 6 VS DIR 3 KYC)
ANS: Yes. All information as entered in the form DIR-3 KYC shall be updated in the DIN holders' database.
No need to file DIR 6.
But if you do not file DIR 6 there is non follow of Rule 12.
As Rule 12 (1) of Companies (Appointment and Qualification of Directors ) Rules 2014
Every individual who has been allotted a Director Identification Number under these rules shall, in the event of any change in his particulars as stated in Form DIR-3, intimate such change(s) to the Central Government within a period of 30 days of such change(s) in Form DIR-6
Now when you file the Form DIR-6, you are aware of the fact that there is a change in address of director, so the time of 30 days has already gone. You are intimating after 30 days. However, DIN department does not send such queries. And web seminar also may Have guided to file DIR 6 then to approach DIR 3 KYC, but practically you can go for DIR 3KYC.
HERE COMES OTHER TWIST IN THE FORM.
DIR 3 KYC DOES NOT VERIFY PAN DETAILS, UNLIKE DIR 3 FORM.
\\PRACTICALLY THE FORM HAS AN ERROR\\
If you swap fathers name and surname in Directors name ie you write

Then also the PAN will be verified. This has worked by entering many dins.
The form does not catch the error may be PAN verification in DIR 3 KYC is verified by only 1st name.
After upload of the Form, The name sequence will change.
5. Whether multiple filing of form DIR-3 KYC is allowed?
The system will not allow multiple filing of form DIR-3 KYC for an applicant. In case KYC is already filed for a DIN, and such DIN is entered again, the system throws an error that the form is already filed.

6. Whether non-resident directors can provide Indian mobile numbers?
In case the DIN holder is a resident of India, the address must be an address in India and mobile number must be an Indian mobile number.
In case DIN holder is non-resident, foreign address and foreign number shall only be allowed.
7. AADHAR is Compulsory?
Ans: No after the version of the form August 13 and updated toolkit AADHAR is not mandatory
8. Director is not providing PASSPORT or Professional is not sure that the director is having a passport or not?
Ans: Wrong Certification
A professional can enter the DIN number in INC 1 form which is now not available on the MCA, (Anyone can drop a mail provided below of article if needed for INC 1)
INC 1 will disclose the Passport number, If the same is there you have right to ask. what if he has taken the passport number after getting the DIN
It is recommendatory to attach the clarification by the professional
Clarification in regards to Point 12
Does the Director have the valid passport?
As per the official communication (Email) / Written statement director does not have Passport, based on the statement provided by the director we have selected no Radio button.
For
_____
Company Secretaries
9. How to know that my director details have been updated?
Ans: For passport number updation you can prefill INC 1 form
For Address master, dates will reflect the change.
Please note that if you have attached driving licence then the same will not be showing in INC 1 as there is no tab for the same
10. Why is the 'Send OTP' button disabled? What is the validity of OTP?
OTP not received on email. Why is it so?
Send OTP button remains disabled till successful pre-scrutiny of the form. After successful pre-scrutiny, the form must be saved and only after saving the form, the 'Send OTP' button gets enabled. Further, please note that, once OTP is successfully sent to the valid mobile number and email ID entered in the form, 'Send OTP' button gets disabled. OTP is valid for 30 minutes.
For e-mail: You may check the Spam folder in your mailbox for the OTP received
Click here

to read the disclaimer
---