Corporate Social Responsibility –Fulcrum between receiving and giving by CS Komal Jain, and CS Karuna Jain
---
Ever since a series of corporate enviromental damages done over last few decades are sending shock waves to the global economy, there has been increasing realisation across the world that concept corporate social responsibility is cornerstone for all sustained damages. The corporate world is abuzz with the talk that the company is not all about net worth, profits, retained earnings, tax savings, high market value, high earning per shares and lastly huge turnovers; there is lot more than that goes into building its image and position and that can be probably possible through corporate social responsibility. In the mordern corporate business world, Corporate Social resposibility has been regarded as the driving force for sustainable success of corporates. It is the foundation upon which the enviroment of trust, contribution, charity and donations is built.In the backdrop, our legislators and regulators have realized the need and are giving adequate attention to corporate social responsibility paving way for enactment and introduction of section 135 of Companies Act, 2013 for the first time in corporate history in India.As the world is going through significant transition in the matter of transparent corporate process in terms of corporate social responsibilitypolicy formulation and policy implementation. Transparency in these process becomes more crucial in case of companies which trigger the applicability of section 135 of companies act, 2013. Under this section corporates are made liable to provide sustainable long term value to society's wellbeing and welfare of backward and needy people thereby mandating compulsorily contribution of 2% of average net profits made during the three immediately preceding financial years by specified corporates towards corporate social responsibility.
The concept of Corporate Social resposibility rests on fulcrum of giving and taking from the society and have more inclination towards philinatropy and helpingcontribute to economic development while improving the quality of life of the workforce and their families as well as of the local community and society at large.CSR is the process by which an organization thinks about and evolves its relationships with stakeholders for the common good, and demonstrates its commitment in this regard by adoption of appropriate business processes and strategies. Thus CSR is not charity or mere donations. CSR is a way of conducting business, by which corporate entities visibly contribute to the social good. Socially responsible companies do not limit themselves to using resources to engage in activities that increase only their profits. They use CSR to integrate economic, environmental and social objectives with the company's operations and growth.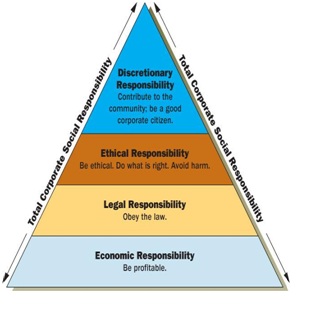 India is a country of myriad contradictions. Religious traditions of daan, seva, and zakat operated in India for centuries to helpto shape the relationship between the privileged and the under privileged people.CSR may be a new term in the corporate World, but it has a long tradition and history in India at time of Mauryan history, where philosophers like Kautilya emphasized on ethical practices and principles while conducting.Indian scriptures have at several places mentioned the importance of sharing one's earning with the deprived section of society. We have a deep rooted culture of sharing and caring.History of CSR in India runs parallel to the historical development of India. the history of Corporate Social responsibility in India can be broadly divided into four phases: The first phase of CSR was driven by noble deeds of philanthropists and charity. The second phase was the period of independence struggle when the industrialists were pressurized to show their dedication towards the benefit of the society. In the third phase from 1960-1980, CSR was influenced by the emergence of Public sector undertakings to ensure proper distribution of wealth. In the fourth phase from 1980 onwards, Indian companies integrated CSR into a sustainable business strategy.


On the one hand, India has grown to be one of the largest economies in the world and an increasingly important player in the emerging global order and on the other hand, it is still home to the largest number of people living with lack of basic necessities in their life. From this what could be seen is a picture of uneven distribution of the benefits of growth which many believe, is the root cause of social unrest. With increasing awareness of this gap between the haves and the have-nots, this scrutiny will only increase over time and societal expectations will be on the rise. Many companies have been quick to sense this development, and have responded proactively while others have done so only when pushed. Governments as well as regulators have responded to this unrest and the National Voluntary Guidelines for Social, Environmental and Economic Responsibilities of Business or the NVGs (accompanied by the Business Responsibility Reports mandated by the SEBI for the top 100 companies) and the CSR clause within the Companies Act, 2013 are two such instances of the steps taken.


This combination of regulatory as well as societal pressure has meant that companies have to pursue their CSR activities more professionally. India has emerged as one of the leading nations to make CSR mandatory by the passage of the Companies Act, 2013. It can be seen as an explicit call to businesses to partner in solving India's complex development issues. There is sustained interest amongst different stakeholders to understand the evolution of Indian businesses CSR journey.


Many promoters and managements look for "returns" from such spend. There is nothing wrong with this. The rationale is like a corporate - harmonious relations with the society in which company operates. In India, creating a healthier and happier world is a key mission, which we steadfastly strive to achieve through our business activities. Our commitment and efforts are not only limited to improvements in our operations. As a responsible corporate citizen, we are cognizant of our ability, means and influence to drive positive change in the society at large. Corporate Social Responsibility (CSR) is therefore yet another way in which we strive to enrich lives of people in the larger society. Our CSR ethos complements our approach to doing business responsibly and demonstrates our unwavering commitment to giving back to the society.These CSR initiatives reinforce us as a community-conscious, socially-responsible and value-based organisation, committed to making the world a better place to live in.


The rules emphasize on the need for companies to ensure that projects or programmes that feature in their CSR policy are not undertaken in pursuance of normal course of business. This is a prominent call-for-action for companies to develop frameworks that will serve to define what would qualify as 'Business-As-Usual' for them.Another critical aspect of the legislation is the need for efficient and transparent monitoring mechanisms to track the flow of funds across the chain of implementation. The Act holds the Board and the CSR Committee liable and responsible for the same, making such a mechanism all the more essential.
Corporate Sustainability Reporting is a potential mechanism to generate data and measure progress and the contribution made by companies towards global sustainable development objectives as it can help companies and organizations measure their performance in all dimensions of sustainable development, set goals, and support the transition towards a low carbon, resource efficient, and inclusive green economy.


Major Industrial Sectors in India engaging concept of Corporate Sustanbaility:
Banking and Financial Services Sector: As an integral driver and enabler of economic development and growth, the sector is not only being held accountable for its own direct impacts but also the impacts of those they finance.
Electric Utilities Sector:The electric utilities sector is seen as a key part of both the problem and solution to climate change. In turn, satisfying the growth of demand for electricity from emerging markets, and meeting changing expectations from a variety of stakeholders to increasingly adopt renewable sources of energy and mitigate environmental impacts are leading to greater scrutiny of the sector.
Cement Sector: As such the sector faces risks related to climate change and natural resource management as well as health and safety issues. There is also a compelling need to shift toward sustainable practices to address the global sustainable development challenge.
Automobile Sector: Automobile manufacturers are poised to gain competitive advantage by developing technology appropriate to address region-specific needs and challenges, gaining thought leadership by moving from reactive "green" compliance tactics to high-performance sustainability strategies and participating in the development and expansion of an educated consumer culture.
Oil and Gas Sector:The volatility of the very concept of sustainability in the oil and gas sector arises from the indispensability of the sector as the primary energy provider and the environmental and social impacts its exploration and production entails.
Telecom sector:This sector contributes to more than just economic growth and is widely recognized as an important platform for sustainable development through offering innovative solutions to environmental and social challenges.
Mining and Metals sector:The mining and metals sector plays a dual role; as a multiplier for economic growth by creating employment opportunities and improved material quality of life as a provider of raw materials used for infrastructure. This makes the sector's adoption of responsible business practices crucial for sustainable development.
FMCG sector:Catering to such a large market comes with its set of responsibilities, including availability of raw material, use of environmentally friendly packaging material, responsible marketing, and consumer health and safety. In this regard sustainability is growing increasingly important for the FMCG sector, especially the food and beverage sector.
Role as a company secretary of the company in corporate sustainibility reporting:
It has become clear that a company secretary play an important role in advancing sustainability on the agenda and decision making of the Board of Directors. We company secretaries are the roadmaps, tools, guides and standards on the ways and means which support Boards to enhance their sustainability oversight roles.



· Overview of traditional duties and responsibilities of the Corporate Secretary

Suggested connections to corporate sustainability governance

· Governance processes and Governance Committee

· Maintain relevant governance processes and structures through regular reviews and updates to the Board Manual and other Governance Documents

· Keep current on evolving practices in corporate governance and advise the Governance Committee and the Board

· Serve as chief expert and advisor on all corporate governance matters for Directors and employees

· Serve as executive liaison to the Governance Committee

· Administer the corporate code of conduct and other Board policies

Monitor the external environment to remain fully informed of corporate sustainability governance trends, emerging issues and best practices – especially those of relevance to the sector or key issues. Inform the Governance Committee on trends and changes in best practice corporate sustainability governance and regulator expectations. Determine and implement amendments to governing documents, processes and structures to incorporate sustainability oversight roles for the Board. Ensure executive and key employees understand the emerging trends in corporate sustainability governance. Along with other executives, ensure the Board regularly reviews, updates, and monitors compliance with corporate sustainability policies.

· Board roles and responsibilities

· Advise the Board on its roles and responsibilities (possibly a shared role with legal counsel)

· Draft and maintain roles and responsibilities for the Board and Directors

Include 'sustainability oversight' within the Board and Director roles and responsibilities.

· Chairperson and Committee Chairperson liaison

· Support the Chairpersons' effectiveness

Inform the Chairperson or Committee Chairperson of trends and best practices in corporate sustainability governance

· Management liaison

· Support management's relationship with the Board

Inform the CEO of trends and best practices in corporate sustainability governance, as a shared responsibility with the sustainability prime. Support the company's sustainability prime to effectively bring sustainability risks and opportunities to the Board's attention.
Provisions of Corporate Social Responsibility under Companies Act, 2013 and rules made thereunder:
According to section 135 of the Companies Act, 2013 that if any of the below mentioned conditions are triggered during any time in a financial year, the CSR would become applicable:
Having net worth of rupees five hundred crores or more;

Turnover of rupees one thousand crores or more;

A net profit of rupees five crores or more;
And shall make contribution of 2% of average net profits made during the three immediately preceding financial years.
"Net profit" means the net profit of a company as per its financial statement prepared in accordance with the applicable provisions of the Act, but shall not include the following, namely:
Any profit arising from any overseas branch or branches of the company, whether operated as a separate company or otherwise;
Any dividend received from other companies in India, which are covered under and complying with the provisions of section 135 of the Act
It is applicable to every company including its holding company, subsidiary company, foreign company including its branch office or project office in India.
Any company which ceases to be a company covered as per criteria mentioned under sub-section (1) of section 135 of the Companies Act, 2013 as mentioned above for three consecutive financial years shall not be required to –
Constitute a CSR committee, and

Comply with the provisions contained in sub-section (2) to (5) of the Companies Act, 2013 till such time it meets the criteria specified in sub-section (1) of section 135.
The composition of Corporate Social Responsibility Committee:


Corporate Social Responsibility Committee shall consist of three or more directors, out of which at least one director shall be an independent director, in case of companies where independent director is mandatory to appoint.
In the case of private companies where only two directors are required to be appointed above requirement can be disposed of and they need not appoint an independent director.In case of foreign companies, Corporate Social Responsibility Committee shall comprise of at least two persons of which one person shall be residing in India and appointed as authorized signatory by the foreign company.The Corporate Social Responsibility committee shall institute a transparent monitoring mechanism for implementation of the projects or programs or activities undertaken by the company.The Further, it may form subcommittees for any purpose and may delegate to such subcommittees or to members of the Corporation's management such powers and authority as it deems appropriate and shall meet as frequently as necessary to fulfill its duties and responsibilities. A meeting of the Committee may be called by its Chairman or any two members. Minutes of its meetings will be approved by the Committee and maintained by the Corporation on behalf of the Committee. The Committee will report its activities to the Board
Section 135 (2) provides that board of directors report of the company shall specifically mention and disclose the composition of committee, CSR policy developed or implemented by the company. It shall specify the reasons for not spending specified percentage of profits as provided under section
Section 135 (3) states functions of Corporate Social responsibility Committee to:-
formulate and recommend to the Board, a Corporate Social Responsibility Policy which shall indicate the activities to be undertaken by the company as specified in Schedule VII

recommend the amount of expenditure to be incurred on the activities

monitor the Corporate Social Responsibility Policy of the company
As per Section 135(4)(a) of act, all companies are required to display the CSR policy and other information on the website of the company. Therefore, displaying the CSR policy on the website is statutory requirement. Display of other information on the website of the company is a recommended practice. Hence, the company which are covered under the CSR criteria are required to have their website, in case, they are not having one.


As per section 135 (5) of the act, company shall give preference to the local areas within which it operates. A company can build CSR capabilities of its personnel or implementation agencies through institutions with established track records of at least three years, provided that the expenditure for such activities does not exceed 5% of the total CSR expenditure of the company in a single financial year.


Conclusion


Though the concept of CSR is undertaken by big corporates beyond its legal compliances, rules and regulations, but the ground reality is that there are still many corporates who hide their profits, net wort and turnover to escape from the provision. More developments will follow as companies begin to adhere to a one-of-a-kind legislation that aims to bring smiles to the scores of underprivileged across the country.Being a professional let's join hands with regulators on one side and corporates on other side to create benchmark of greatest philanthropy in the world.It is no longer sufficient that the professional holds itself out as willing to render a service. It is even more important that it actively associates itself in the development of the national economy so that expertise is made available for the benefit of nations. Further, professional have to always try to build a bridgeof communication between Government and corporates. As society expects the professional to be not merely 'conscience-keeper' of the business world but also a direct contributory to the welfare of society in general as well as industry in particular.


Authors:-
Komal Jain, ACS Karuna Jain, ACS
K K Jain &Co. LLPK K Jain &Co. LLP
Practicing Company Secretary Practicing Company Secretary
Surat Surat
komal.jain.cs@gmail.com karuna.jain.cs@gmail.com
Click here

to read the disclaimer
---
Write a Comment