Corporate Governance In India And Outside India by Shobhit R Agrawal
---
During recent times "Corporate Governance has gained attention globally. The reason behind focus is due to increase in corporate frauds and scams which leads to corporate failures. So to save the corporate sector from failures there need a mechanism termed as "Corporate Governance ".
In India,various initiatives have been taken in the past by:-
The Ministry Of Corporate Affairs
SEBI
Corporate Governance is the system by which business corporations are directed and controlled. The Corporate Governance Companies objectives are set and the means of attaining those objectives and monitoring performance.
In the present dynamic global Market environment where there is a vast scope for corporate failures, it is essential to follow global corporate governance disclosure standards which are well accepted benchmarks for all corporate worlds. The corporate must follow well enriched and universally accepted corporate governance standards and disclosure practices effectively and efficiently. Therefore, all the countries should make a serious effort for designing appropriate corporate governance mechanisms and disclosure practices. It is hoped that these measures would certainly go a long way in reshaping the corporate world which will reflect on strengthing the corporate performance, shareholders confidence, wealth maximization and consumer protection as well.
Boardroom diversity is also means of strengthening corporate governance, which can respond to increasing regulation and or codes of practice for listed companies around transparency, accountability and reporting that are now becoming the norm. Various studies indicate that people of different demographics from different backgrounds and with different professional and personal experiences are likely in diverse ways, thus letting the group access a wider range of options and solutions and even leading to better corporate governance.
Regulation 19(4) of the SEBI (Listing Obligations and Disclousre Requirements) Regulations,2015 deals with the role of the "Nomination and Remuneration Committee " and sub-clause (3) of Part-A to Part-D of the Schedule – II thereto requires "devising a policy on diversity of Board of Directors". This is the provision which is the focal point of assimilating and complying with the provisions of Board diversity as per and beyond.
Regulation 4(2)(f)(ii)(5) of The SEBI (LODR) Regulations,2015 deals with a key function of the board of directors that "ensuring a transparent nomination process to the board of directors with the diversity of thought , experience , knowledge ,perspective and gender in the board of directors ". Hopefully the purpose of diversity can be achieved in Indian listed corporate boards more in beneficial context than in mere compliance.
The SEBI (Listing Obligations and Disclosure Requirements) for the first time has mandated companies whose shares are listed on stock exchange to formulate,publish and implement a Board Diversity Policy.

Definition of Board Diversity:-
Board Diversity means introducing diversity of thought ,experience ,knowledge ,understanding ,perspective ,gender and age in the boards of directors.
Two prominent examples are 1). Stressing on the role of non-executive directors as well as the importance of independence of the board ; and 2) emphazing the significance of balancing skills and experience of the board members. Until recently, there has been an urge for diversifying the board.
Diversity means having a range of many people that are different from each other.
There is no uniform definition of board Diversity. Frankly speaking , one can consider factors like age,race,gender,education background and professional qualifications of the directors to make the board less homogenous [similar].


Some may interpret board diversity by taking into account such less tangible factors as life experience and personal attitudes.
Objectives Of Board Diversity
The purpose of achieving diversity on the board of directors of the company is for the following :
Enhancement of the quality of performance of the board

Compliance of applicable laws / and good corporate practices.

Support the attainment of strategic objectives of the company

Achievement of sustainable and balanced performance and development in the Company.
Benefits of Board Diversity
The board of directors is the most important decision – making body in any form of company organization. Boards are responsible for approving major strategic and financial decsions, such as mergers and acquisition
(M&A) and changes in capital structure,andalso for the most important task of all, which is to hire and fire top executives. Diversifying the board is said broadly to have these benefits, i.e (1) More effective decision making 2) Better utilization of the talent pool and 3) Enhancement of corporate reputation and investor relations by establishing the company as a responsible corporate citizen.
To Improved Corporate Governance In India there are Short Term and Long Term Measures
Short-Term Measures :
An Expilicit addendum shall be applied to all committees :
The Listing Regulations,2015 should be amended where they are silent , such that the additional two independent directors addendum found under the Audit Committee heading should be replicated to all committees in order to improve continuity and good governance .Further, the direct application of section 174 and rules should be explicitly stated and not read in through infernence as applied to all committees.
The minimum number of committee meetings held shall be increased :
The companies Act,2013 should be amended to reflect that in the event that only one meeting is held during the fiscal year and if attendance was not met in full and the second meeting must be convened. This recommendation would only be adopted by the committees that currently are only required to have one meeting per annum !!!.
Disclosure norms related to information regarding committee level meetings shall be tightened :
To increase transparency the Companies Act 2013 should be amended to require all firms to report in their annual reports the number of committee meetings per year, the dates of those meetings and exactly who was in or not in attendance. SEBI could also provide standardized template in which company can copy under the Corporate Governance Report section of their annual report.
Long Term Measure:
Going forward it would be ideal if the key committees could be completely independent , such that the listing Regulations 2015 would be amended to similar the New York Stock Exchange (NYSE) listing rules in which those rules require the Nominating and Corporate Governance Committee, Audit Committee and the Compensation Committee to be compose entirely of independent directors.
These measures taken together will not only bring simplicity and coherence to the existing regulatory framework,they will also lead to better corporate governance.
Transparency in Related Party Transactions : A Key to Good Corporate Governance.
SEBI was formed to protect the interests of investors in securities market and to promote the development of and to regulate the securities market by such as measures as it thinks fit.
Sebi has done a lot to regulate most irregular market. By incorporating clause 49 of the listing Agreement , SEBI took a small step towards initiating Corporate Governance Process . SEBI (Listing Obligations and Disclosure Requirements) Regulations 2015 is a step forward in this direction. Companies Act 2013 has also given due consideration to Corporate Governance and added a lot of provisions to enhance Corporate Governance at all levels.
" There is no provision in law through which disclosure from the relatives can be enforced. However being compliance officer it is our duty to comply with the Act. For this purpose the Director or KMP to seek details from relatives in valid manners and keep the same evidence in files.
Definitions of Related Parties Under SEBI(LODR) Regulations:
The above Regulations are applicable to all entities which have listed their securities on a recognized stock exchange. Regulation 2(zb) of the regulations defines "related party" to mean a related party as defined under section 2 (76) of the companies act 2013 or under the applicable accounting standards.
The definition shall not be applicable for the units issued by mutual funds which are listed on a recognized stock exchange(s).
The Regulation gives broader definition. In addition to section 2(76) of the companies act 2013
The regulation gives broader definition. In addition to section 2(76) of the Companies Act 2013, Indian Accounting Standards -24 ,defines related party as the person or entity that is related to reporting entity. The definition takes into account control,significant influence etc of the party over the financial,business or operational decision of other party.
A person or a close member of that person's family is related to a company / Reporting entity if that person :
Has control or joint control or significant influence over the company

Is a member of the key management personnel of the company or of a parent of the company.
An entity is related to a company if any of the following conditions applies :
The entity and the company are members of the same group i.e. each parent,subsidiary and fellow subsidiary is related to the others

One entity is an associate or joint venture of the other entity.

Both entities are joint ventures of the same third party.

One entity is a joint venture of a third entity and the other entity is an associate of the third entity.

The entity is a post-employment benefit plan for the benefit of employees of either the company or an entity related to the company. If the company is itself such a plan,the sponsoring employers are also related to the company.If the company is itself such a plan ,the sponsoring employers are also related to the company.

The entity is controlled or jointly controlled by a person identified in point no [1] above.

A person who has control or joint control over the Company has significant influence over the entity.
Let us understand the terms meaning first :-
Control

Joint Control and

Significant influence
There is an explanation in the SEBI (LODR) Regulations 2015 which provides that words and expressed used but not defined in the Regulations, but defined in the Companies Act 2013 or other SEBI Regulations shall have the same meaning assigned to them in the ACT or in Regulations etc.
Control :- is the power to govern the financial and operating policies of an entity so as to obtain benefits from its activities.

Joint Control :- is the contractually agreed sharing of control over an economic activity

Significant Influence :- is the power to participate in the financial and operating policy decisions of an entity ,but does not control over those policies. Significant influence may be gained by share ownership,statue or agreement.
Corporate Governance: Key Milestones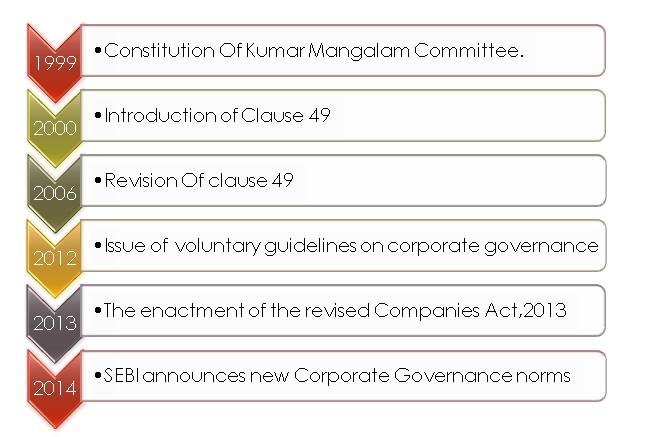 Key changes proposed by SEBI
Board of directors and its committees

Independent Directors

Other Governance Aspects

Mandatory stakeholders relationship and nomination and remuneration committee with an independent chairman.

Nominee director not to be considered as independent director

Prohibition on stock options

Mandatory performance evaluation

Separate meetings of independent directors

Number of companies restricted to 7 (3 if serving as whole time director.

Maximum tenure restricted to 2 terms of 5 years.

Prior approval of all material related party transactions from audit committee.

Definition of relative covering Companies Act and accounting standards.

Compulsory whistle blowing mechanism.

Disclosure of remuneration policy.

Specifying principles of corporate governance.

Risk management.
Faced with a fiscal crisis in 1991, Indian Govt. responded by enacting a serious of reforms aimed at general economic liberalization.
| | | |
| --- | --- | --- |
| Year | Committee | Recommendations |
| 1998 | Confederation of Indian Industry (CII) | First Voluntary code of corporate Governance. A Committee was setup to examine Corporate Governance issuing focusing on listed companies. |
| 1999 | Kumar Mangalam Birla Committee | Initiative undertaken by SEBI to make recommendations regarding board representation and independence,function and constitution of board audit committees. |
| 2000 | Clause 49 of Listing Agreement | SEBI board accepted and ratified recommendations of Birla Committee and incorporated into Clause 49 of Listing Agreement of Stock Exchanges. |
| 2002 | 1. Naresh Chandra Commitee | Department of Company Affairs (Hereinafter referred as DCA) appointed the Committee to make recommendations on financial and non-financial disclosures,independent auditing and board oversight of management. |
| | 2. Narayana Murthy Committee | Set up by SEBI pointed out international developments and highlighted the need for further reforms in view of recent failures of Corporate Governance in USA. |
| 2004 | 1. J.J. Irani Committee. | Govt. of India introduced companies Bill, 2008 to enable corporate sector to operate in regulatory environment characterized by best international practices. |
| | 2. Companies Bill,2009 | Due to dissolution of 14thLokSabha,Bill 2008 lapsed and reintroduced as Companies Bill,2009 |
| 2010 | Corporate Governance And Ethics Committee | Chaired by NarayanaMurthy ,Committee issued recommendations relating to audit committee,whistle blower policy, and the need to improve shareholder rights. |
| 2011 | 1. Companies Bill,2011 | As per recommendations of Parliamentary Standing Committee on France and suggestions of stakeholders. |
| | 2. Companies Act,1956 | Companies Bill,2011 representing a trend towards legislating on Corporate Governance ,voluntary corporate governance guidelines acquired a mandatory status through consolidation into Companies Act,1956. |
2013

Companies Act,2013

Includes section :-

1. Under section 241 and 242 for prevention & oppressive of Mismanagement ,

2. Section 111 for shareholder Activisim,

3. Section 245 (Class Action Suits),

4. Section 211 (Established of Serious Fraud Investigation Office).
Corporate Governance Issues in UK ,USA

Shareholder Activisim :-

A process of dialogue between company executives and shareholders in order to influence the actions of the company, it is known as 'relationship investing' which has served as a powerful mechanism to create the pressure on corporations and educate the public on often-ignoredsocial , environmental, and labour issues and the ethical practices being followed by the corporation.

A strong legal framework should bethere to regulate a company's working which allows shareholders to voice their concerns and expect a speedy, effective and harmonious resolution and a legal remedy to their problems.
Abuse of Related Party Transactions (RPTs):

Concentrated ownership and widespread use of company groups is a common feature of listed companies in India; mostcompanies are closely held by families or the state.This provides more scope for RPTs involving controlling shareholders, and increases the probability of abuse if not conducted at arms-length. As many high profile caseshave shown, abusive RPTs damage shareholders value, declining company's reputation with investors, both domestic and foreign, and undermine investor confidence in the integrity of the financial market as a whole. In the wake of Satyam fraud in which the companychairman admitted in 2009 that the company's accounts had been falsified, to the tuneof some USD 1.5 billion, highlighted inadequacies in the existing legal provisions designed to prevent abusive RPTs in India.
Whistle Blowing:

Corruption is widespread throughout the world with bribery also a common practice. Not only the poor and developing countries witness corruption, but it is also prevalent in developed world. An important role is played by Whistle blowers. Whistle Blowing is an ordinary parlance is a person who reveals/discloses the wrongdoing within an organization to the public at large or to those in positions of authority. The past has witnessed many corporate scandals being public when an insider spoke or through a confession and not through an audit report or a regulatory investigation, beingSherron Watkins, one of the few people inside Enron who voiced concern about accounting five months before its collapse and Harry Templeton challenging Robert Maxwell's plundering of the pension fund,better known as "the Maxwell Saga" in the U.K.
Corporate Governance At Abroad :-
The U.S. passed the Foreign Corrupt Practices Act (FCPA) in 1977, with subsequent modifications.
This law made it illegal to bribe government officials and required corporations to maintain adequate accounting controls. It is enforced by the U.S department of Justice and the Securities and Exchange Commission (SEC). Substantial civil and criminal penalties have been levied on corporations and executive convicted on bribery.
The Foreign Corrupt Practices Act (Hereinafter referred as "FCPA) applies to any person who has any connection to the United States and engages in foreign corrupt practices.
The Act also applies to any act by foreign corporations trading securities in the U.S., U.S. businesses, American nationals, citizens, and residents acting in furtherance of a foreign corrupt practice.
The FCPA contains two types of provisions :
Anti-bribery provisions (which prohibit corrupt payments to foreign officials,parties or candidates to assist in obtaining or retaining businesses or securing any improper advantage)

Record-Keeping and Internal Controls provisions,which impose certain obligations on all companies whose securities are registered in the United States or which are required to file reports with the SEC ,regardless of whether or not the companies.
The U.K passed the Bribery Act in 2010:
This law made it illegal to bribe either government or private citizens or make facilitating payment .
It is also required corporations to establish controls to prevent bribery.
SARBANES-OXLEY ACT
This act enacted in 2002 due to increase in the series of high profile corporate scandals. It established series of requirements that affect corporate governance in the U.S and influenced similar laws in many other countries. The law required, along with many other elements namely
The public company Accounting Oversight Board (PCAOB)be established to regulate the auditing profession,which had been self-regulated prior to the law.

The auditors are responsible for reviewing the financial statements of corporations and issuing an opinion as to their reliability.

The Chief Financial Officer and Chief Financial Officer (CFO) attest to the financial statements.
Corporate Governance: Global Financial Crisis
The OECD report analysed and submitted a detailed report on the impact of failures and weaknesses in corporate governance on the financial crisis, including risk management systems and executive salaries. It concluded that the financial crisis can be to an important extent attributed to failures and weaknesses in corporate governance arrangements which did not serve their purpose to safeguard against excessive risk taking in a number of financial services companies. Accounting standards and regulatory requirements have also proved insufficient in some areas. Last but not the least, remuneration systems have in a number of cases not been closely related to the strategy and risk appetite of the company and its longer term interests.
Corporate Governance Lessons from the Financial Crisis
The financial crisis in USA can be to an important extent attributed to the various failures and weaknesses in corporate governance arrangements. Qualified board oversight and robust risk management is important. Corporate governance enhancements often followed failures that highlighted areas of particular concern. Understanding the market situation that confronted financial institutions is essential. Default rates on US sub-prime mortgages began to rise as of 2006, and warnings were issued by a number of official institutions. By mid-2007 credit spreads began to increase and first significant downgrades were announced, while sub-prime exposure was questioned. Financial institutions faced challenging competitive conditions but also an accommodating regulatory environment. While the post-2000 environment demanded the most out of corporate governance arrangements, evidence points to severe weaknesses. The remuneration of boards and senior management also remains a highly controversial and debatable issue in many countries
Need for corporate governance evident at abroad:-
Taking a world view of the development of corporate governance, who does not remember the Asian financial crisis in 1997? and Enron's (the giant US power company) bankruptcy in November 2001?
It was later revealed that the reported Enron financial meltdown was sustained substantially by an institutionalized, systematic and creatively planned accounting scandal.
What was known as Arthur Andersen, the accounting firm, played a major role in the Enron fraud. The weak corporate governance at Enron was a major factor in the scandal.
Enron (1985-2000s ):- this company is engaged on energy trading , natural gas and electric utilities company based in Houston ,Texas with 21000 people or around 40 countries became Seventh Largest Company in US after involving in fraudulent accounting techniques.
Its executives and senior managers manipulated publicly reported Financial Results to deceive investing public about its true nature and profitability. The main purpose to increase its stock price from $30 pershare in 1998 to hit a high of $80 per share in 2001 after stock split. Thereaftersharply falledin the share price and ended with filing Bankruptcy to reorganize while protected from creditors. The energy trading arm of Enron tied up with UBS Warburg and European Retail arm to Centrica for pound 96.4 millions.
Following Enron and other major corporate scandals, came the Sarbanes-Oxley (Sox) Act of 2002 in the United States that set new or enhanced standards for all US public company boards, management and public accounting firms.
Then came Basel II in 2005 to guard against the type of financial and operational risks banks face.
At that time, Sox and Basel II had a significant impact on the efficiency and effectiveness of corporate activities within organisations, and since then serious attempts have been made to reestablish focus on corporate governance. However, the 2008 financial crisis emphasised the need for more attention to the application of corporate governance and professional scrutiny in corporate operations.
What about closer to home?
The UAE is no exception when it comes to corporate governance and the Dubai Declaration on Corporate Governance, issued in November 2006, and the subsequent steps taken by the UAE Government underlined the importance of good corporate governance for the following reasons among others:
Financial and economic stability.

Foster development and sustainable growth.

Nurture and raise investor confidence.
The 2009 resolution issued by the UAE Ministry of Economy makes it mandatory for Public Joint Stock Companies to strengthen their corporate governance and bring them to the standards of the leading international financial centers.
The growing markets in the UAE are a true reflection of the determination exhibited by a strong economy and vision of the authorities who are working hard to implement good governance to ensure everyone is able to reap the fruits of sound corporate governance.
This will attempt to do the following:
Protect against corruption and bad management.

Encourage transparency.

Attract investments.

Facilitate limiting capital flight if any.
We now have the Abu Dhabi Center for Corporate Governance as an initiative by the Abu Dhabi Chamber of Commerce and Industry, and Hawkamah Institute for Corporate Governance in Dubai. They are working hard to promote sound and effective corporate governance, its establishment and implementation across the country.
We also need to highlight the importance of good governance for state-owned enterprises (SOEs) in the UAE.
There is no law to enforce corporate governance for SOEs in the UAE and as such it might seem to be a luxury. In reality it is not. It is rather a necessity to promote accountability and transparency that will eventually drive good performance.
Over the last couple of years the focus on strategic improvement of SOEs was obvious. Corporate governance will facilitate adding the strategic dimension to the management of these enterprises.
In conclusion, the implementation of corporate governance in UAE organisations, whether private or public, will reflect positively on the economy and will drive prosperity and a sustainable steady growth.
USA
CG are not regulated by any one particular statute

It is regulated by:-

the governing instruments,

the corporate law and the court decisions of each issuer's state of incorporation, and,

in the case of many publicly-owned issuers, by the U.S. federal securities laws and

requirements of the national securities markets.
S. federal securities laws affect corporate governance practices in the areas such as :-

disclosure and financial reporting,

proxy voting, and

the submission of shareholder proposals for consideration at shareholders' meetings.

Matters governed by state law namely:-

the voting rights accorded to shareholders, the functions of the board, and the ability of board members and

executives to enter into transactions with the company.

State corporation laws vary among the 50 states

Further, the national securities markets impact corporate governance practices through their requirements applicable to issuers of securities traded on their markets.
There has been renewed interest in the corporate governance practices of modern corporations since 2001, particularly due to the high-profile collapses of a number of large U.S. firms such as Enron Corporation and MCI Inc. (formerly WorldCom). In 2002, the S. federal government passed the Sarbanes-Oxley Act, intending to restore public confidence in corporate governance.
The Investor Protection Policy Framework In US,UK And India
Basis

USA

UK

India

Statutory Framework

Securities Exchange Act ,1934 , Sarbanes-Oxley Act,2002

Companies Act 2006,

Financial Services Act,2012

SEBI Act,1992

Companies Act,2013

Regulatory Authorities

Securities and Exchange Commission

Financial Conduct Authority (Hereinafter "FCA")

Securities Exchange Board Of India (Hereinafter SEBI)

SEBI(Listing Obligations and Disclosure Requirements) Regulations,2015.

Codes

Calpers Global Corporate Governance Principles ,1996

Cadbury Committee Codes in the year formally adopted in the listing agreement UK Stewardship Code

Kumar Mangalam Birla Committee Code Formally adopted in Listing Agreement.

Corporate Governance Voluntary Guidelines 2009
World Biggest Frauds
Corporate Frauds arise with the disclosure of misdeeds by trusted executives of large public corporations including complex methods for misusing or misdirecting funds,over stating revenues, under stating expenses,overstating the value of corporate assets or under reporting the existence liabilities
Top Four !!!!!
Enron (USA) – 2001 – Lose of more than $11 billion to shareholders.

Worldcom(USA) – Profits inflated by $3.8 Billions.

Bank of credit and Commerce International UK – pound 5.6 bn deficit (at Closure)

Subprime Mortgage (USA) – 2008 –Merged with JP Bank with $3 Billions
Corporate Governance Laws In UK
UK Bribery Act,2010 :- The Bribery Act 2010 was introduced to update and enhance UK law on bribery including foreign bribery in order to address better the requirements of the 1997 OECD anti-bribery Convention. It is now among the strictest legislation internationally on bribery. Notably, it introduces a new strict liability offence for companies and partnerships of failing to prevent bribery. It creates following prime offences :-
Two general offences covering the offering promising or giving of an advantage, and requesting ,agreeing to receive or accepting of an advantage;
A discrete offence of bribery of a foreign public official and
A new offence of failure by a commercial organization to prevent a bribe being paid to obtain or retain resources ,or resources – business advantage.
Public Interest Disclosures Act,1998 :- The Act protects workers that disclose information about malpractices at their workplace , or former workplace , provided certain conditions are met.
It not only covers the disclosures by employees but also those of workers, contractors , trainees, agency staff , home-workers and every professional in the National Health Service (NHS). This Act protect whistle blowers from any revenge taken by employers such loss or dismissal of job or denial of promotion if and when due. In the event of such situation the whistle blowers may put their case before an employment Tribunal, who can then award compensation.
Author Details:
Shobhit R Agrawal
shobhitaits@gmail.com
CCNEWS Disclaimer:

Kindly note here that the contents of this article is only for the information purposes prepared by the Author on the basis of relevant provisions, rules, notifications, circulars and as per the information prevailing at the time of the drafting of this write up. The Author and the Site www.blogs.compliancecalendar.in hereby do not propose to provide any sort of professional advice/service through this write up. Moreover, appreciate that any reliance on such article will not be considered as our advisory. Though, while writing the article, utmost care has been taken to mitigate the chances of errors or omissions by the Author. However, there is always room for some human errors or omissions. Therefore, it is earnestly requested from the readers to check at your end and confirm from any Professional before acting on any of the information's provided herein above by the Author. Compliance Calendar LLP shall not be responsible for any loss or damage happened (if any).
Click here

to read the disclaimer
---
Write a Comment